To derive the greatest benefit from a meal replacement shake, you have to know what you are looking for.  There are several considerations when making such a decision that can help you to avoid a lot of experimentation and repeated trips to the local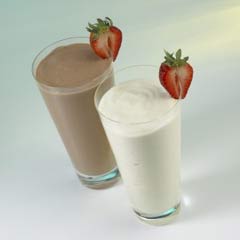 nutrition store.  First and foremost you need to know what makes for a good meal replacement shake.  You want something that provides your body with the nutrients that it needs while allowing you to cut calories to lose weight.  You also need to pay attention to the type and quantity of protein in the formula. 
There are five additional factors that you should research before making a final decision:
Does the product provide long-term weight-loss results, regardless of whether your goals are total weight-loss or ideal weight maintenance?
Is there any third party empirical scientific evidence to back up the products claims of effectiveness?
Is the purpose of the shake to replace a full meal; or will it serve only as a snack between meals?
Is the shake free of additives, artificial ingredients, artificial flavors or sucralose?  In addition, is the product tested for contamination of pollutants and heavy metals?
Is the product available at a reasonable price? 
My wife and I believe that the Isagenix Isalean Shake meets all of these criteria.  The IsaLean shake has delivered long-term weight-loss results to include more than 5.4 million pounds released and 6.5 million inches lost by people using the product.  A clinical university study demonstrated that the IsaLean shake surpassed other protein shakes for weight loss results.  The shake is a full meal replacement with 23 grams of Whey Protein which serves to prevent muscle loss while you lose weight.  The IsaLean shake is low in saturated fat while being high in healthy poly- and mono-unsaturated fats.  The shake is all natural with no additives.  Finally, the Isagenix IsaLean shake offers great nutrition at a great price. 
If you would like to speak with us about the Isagenix Isalean Shake you can contact us through our web-site at http://www.cleansebenefits.com, or by calling toll free at 1-866-982-DIET (3438).
Tags: Isagenix, Isagenix IsaLean Shake, Weight Loss, Whey Protein